Youth Ministry
---
Why We Exist
Whether in Sunday School, mid-week small groups, sitting around the coffee table, or on special events FMUMC's youth program is a safe environment for youth to develop their faith in Jesus and explore how to integrate that faith into their daily being.
At Flower Mound UMC, we hope to assist students (grades 6-12) as they find a sense of purpose and belonging in their relationship with God and community.
Download our 2020 Youth Calendar
---
Ongoing Programs
All incoming 6th - 12th graders are welcome to participate
Programs will be held on Zoom until further notice
Sunday
UMYF
6:30 pm
(All youth welcome)

Tuesday
BOOK STUDY
1 pm
(July book: "Piecing Me Together" by Renée Watson)
Parent Guide Week 1
Parent Guide Week 2
Bloomsbury's Parent Guide


Wednesday
MINECRAFT/HANGOUT
3 pm

Thursday
HOBBY HOUR
3 pm
For zoom links see our "FMUMC Youth Group" private Facebook group, sign up for our newsletter, or email
---
Upcoming Events
Subscription Boxes
July 6th
"Chopped"
Try your hand in the kitchen to create a tasty treat. In this box you will receive a few surprise ingredients that you must incorporate into your creation. You must use whatever ingredients are in the pantry. You also have 1 hour to bake/cook. Film yourself during the hour, and submit your video to Ashley to be included. Judging forms will be included for your harshest critiques- your family! At UMYF we will watch the "episode" together and unveil the winner.

July 13th
"Co-Creators"
In this week's box everyone will receive differing supplies to create a unique piece of art. There will also be a pre-addressed card to a member of the congregation who could use an extra "hello."

July 23rd - 25th
"Wholly Loving Flower Mound"
In this week's bingo style card you will find ample opportunities and ideas on how to love your neighbor in the remaining weeks of summer.

.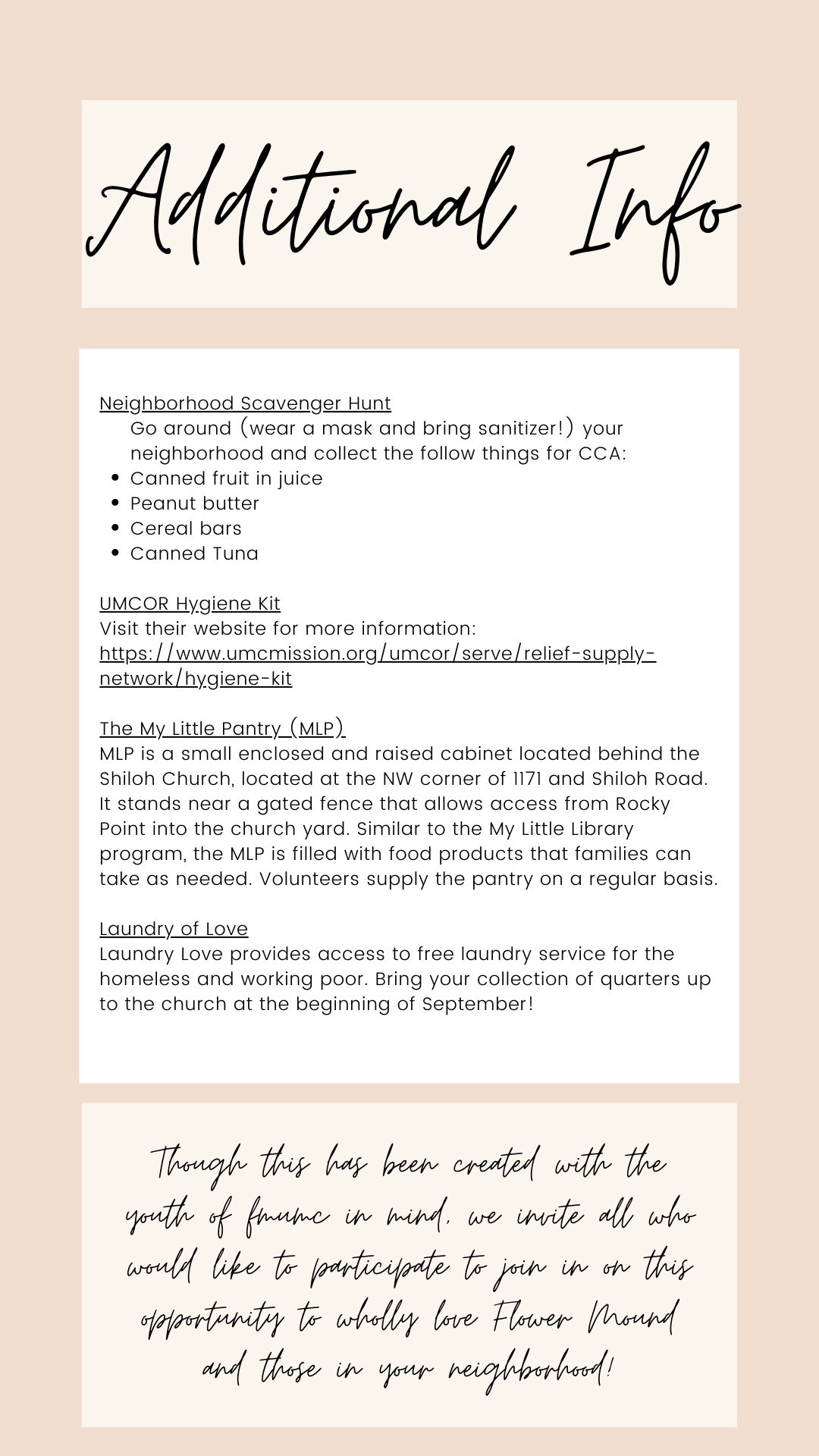 July 27th
Geocaching
Who doesn't love some old fashioned-ish treasure hunt? Join the fun as we spend the week looking for hidden rubber ducks all over the Flower Mound Area.

August 3rd
"Strange Stories"
If you haven't noticed, the Bible is full of weird stories. For this week each person will be assigned a particularly odd story from the Bible. You will have until Friday to create a TikTok style video that tells the story as well as you can. The church will vote on their favorite, and the winner be announced at UMYF.

Please click here to reserve your box(es).
---
Get to know you(th) surveys
Help Ashley get to know you by completing
this form.
Complete this form
to help Ashley learn about your interests and how we might continue doing ministry together this fall.
---
Questions? Contact:
Associate Pastor to Youth: Ashley Sutherland
Youth Ministry Assistant: Stephanie Canales
website last updated 7/2020